WHAT'S THE NEWS
Testing, testing…the rough with the smooth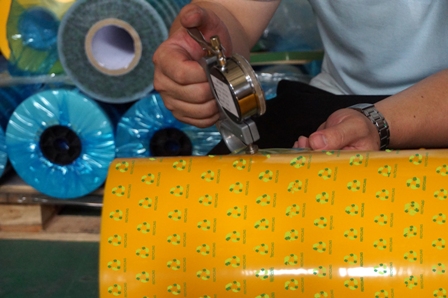 Window manufacturers wanting to capitalise on the growing trend towards dual coloured frames have a problem: how to ensure BOTH surfaces are properly protected from factory to installation, cost-effectively.
It is a problem that Britain's newest player in the removable protective film market Macrowill Plastic Engineering UK (macrowill) can solve for its customers- PVC or aluminium.
"Dual coloured windows- especially the woodgrain/solid combination- look great, but keeping them looking good from extrusion to installation can be a headache," explains macrowillsales manager Philip May. "You either have a protective film that does not adhere properly to the different surface textures, or that leaves residue.
"Neither is acceptable. There's either the risk of the decorative foil or powder coating being damaged along the way, or an unhappy householder whose new frames have traces of adhesive on them. But manufacturers have to balance that against the cost of developing and using different protection films for the different surfaces, or upgrading to one that is in part over-specified."
Macrowill has the capability to develop bespoke removable protection films for both surfaces, even if customers only require comparatively low volumes. It can also develop specific solutions that address the most stringent criteria, cost-effectively.
Innovatively, it will undertake tack/ peel force tests to produce a peelable film that is fit for purpose, that adheres when it needs to, yet is removed without residue nor undue effort, regardless of the smoothness of the surface below.
Macrowill will undertake the tests rapidly and free of charge (subject to terms & conditions), with nominal minimum order volume.
The company brings to its testing the heritage of some three decades in producing up to 1billion m2 a year of removable protection film, supplying customers in three continents, with a7+acre UK distribution facility.
To find out more how macrowill can help protect your products, contact Phil May on 07423 208362 or email philip.may@macrowillplastic.co.uk.
ENDS